<![if !supportEmptyParas]> <![endif]>
Custom Arranging
<![if !supportEmptyParas]> <![endif]>
Custom arrangements are relatively expensive because of the time, effort, and inspiration that go into them, but if you want a certain song for a wedding or other special occasion and can't find it otherwise, they are worth it! Before having a song custom arranged, you might want to consider using a piano arrangement – some of them can be played on the lever harp, but not all of them. Be sure to check with your harpist if you are using piano music, to be sure he or she can play it.
<![if !supportEmptyParas]> <![endif]>
Our arrangements will also give you a professional-quality copy of your own composition, from which you can make as many copies as you want.
<![if !supportEmptyParas]> <![endif]>
The music will be entered into a computer using Coda's Finale music software – the best in the world – and printed on ivory paper as 8˝" x 11" sheet music (11" x 17" before folding), including an attractive cover page if space permits. Music for harp and voice will include words, melody, arrangement for harp, and chord symbols; harp solos will include a harp arrangement and chord symbols; and lead sheets will include words, melody, and chord symbols. The harp arrangements can also be played on the piano, and the chord symbols can be written in guitar tablature (as fretboard diagrams) if you wish.
<![if !supportEmptyParas]> <![endif]>
A harp solo will include three passes through the melody of an average-length song, each with variations, and a harp/vocal arrangement will include one version of the harp arrangement to be played with all the verses. We will send the arrangement to you in .pdf (Adobe Acrobat) format, as well as up to 12 printed copies. Prices are $150 for a harp solo, $95 for an arrangement for harp and voice, or $59 for a lead sheet.
<![if !supportEmptyParas]> <![endif]>
The copyright of the arrangement will belong to Valkyrie Publications unless a different agreement is made. We are quite "easy" about this: if you are having a traditional melody arranged for a wedding, we would like to keep the copyright and share it with others, but if you are having us arrange your own composition, of course the copyright is yours.
<![if !supportEmptyParas]> <![endif]>
If you are interested in having music arranged, please click here to send an email. Please allow 4 weeks if you are ordering it between January 1 and March 15, or 6 weeks at other times of the year.
<![if !supportEmptyParas]> <![endif]>
Blessings!
<![if !supportEmptyParas]> <![endif]>
<![if !vml]>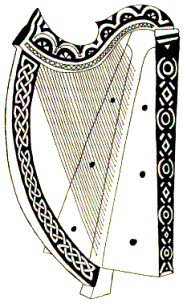 <![endif]>