Will the pipelines leak? YES. Pipelines are made of carbon steel, which eventually rusts through. Other pipelines, such as the TransAlaska and Enbridge pipelines, have had disastrous leaks, and the Keystone pipelines will operate at much higher pressure, so leaks will be more certain and severe. A pinhole leak of 2% is not detectable; so 2% of 485,000 barrels per day would leak for 90 days or more before coming to the surface and being spotted or smelled by a farmer or motorist. If it leaked under water in a wetland, it might not be discovered at all.
<![if !supportEmptyParas]> <![endif]>
Will the leakage reach the river? YES. From the land at right, which slopes towards the river, toxins from the tar would reach the river in as little as four minutes if carried by rain or spring runoff. Just across I-94 from this land, the pipeline would cross a wetland that holds water the year around – water that flows constantly into the Sheyenne.
<![if !vml]>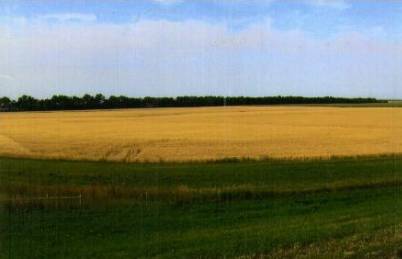 <![endif]>
<![if !supportEmptyParas]> <![endif]>
Each pipeline would cut a 50-foot swath through this prime farmland three miles east of Valley City. A leak would render the land permanently unusable.
See: Path of an Oil Spill