<![if !supportEmptyParas]> <![endif]>
<![if !vml]>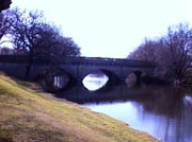 <![endif]>
<![if !supportEmptyParas]> <![endif]>
City Park Bridge, Valley City, ND
<![if !supportEmptyParas]> <![endif]>
<![if !supportEmptyParas]> <![endif]>
<![if !supportEmptyParas]> <![endif]>
<![if !vml]>

<![endif]>
<![if !supportEmptyParas]> <![endif]>
PayPal used to have website payments that allowed people to add up their orders and type in the amount, as we always do when we mail in an order. They discontinued it and now have only two options unless we use the "Donation" work-around:
<![if !supportEmptyParas]> <![endif]>
A "Buy Now" button that would require you to send a separate payment and type in your credit-card number, address, etc., for each and every piece you ordered, and

A shopping cart. We don't care for shopping carts, and from their responses, neither do most of our customers. Who among us has never gone back to add one more item to a filled cart, only to find the cart empty? In addition, companies that offer shopping carts often change or go out of business (PayPal had "Mal's" cart last year, their own cart this year, and next year may have something else), and we would have to paste the new button into more than 200 locations in our website! Before we could do that, people would undoubtedly try to use a cart that no longer worked. Besides – anyone who can play the harp can add!

J
<![if !supportEmptyParas]> <![endif]>
Therefore, we use the "Donation" function as the only work-around available to let you add up your order, add the postage, and type it in yourself.
<![if !supportEmptyParas]> <![endif]>
You can buy from us with confidence, though. Just check the feedback for our eBay store: at the time we write this, we've received almost 1,000 feedback comments as a seller, 100% positive not just for twelve months (which eBay shows) but ever since we went online in 2001! You can also check our feedback on amazon.com from our home page. Valkyrie Publications has been providing fine music to harpists since 1990, and we are very proud of our record!
<![if !supportEmptyParas]> <![endif]>
You can send PayPal from this page or go back to the Contact and Orders page. You can also buy our books through amazon.com or anything we have through our eBay store if you wish, although some prices and the postage are higher there to make up for eBay fees.
<![if !supportEmptyParas]> <![endif]>
<![if !supportEmptyParas]> <![endif]>
Blessings!
<![if !supportEmptyParas]> <![endif]>